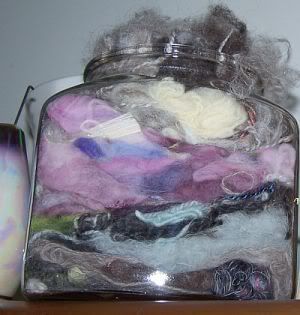 The photo above shows my jar full of leftover spinning bits. I have heard a rumor that knitters collect bits and pieces of their leftover yarn and put them into jars also. Apparently, these jars have a special name (has anyone else heard of this, and do you know the name of the jar?)
Spinners, what do you do with your leftover bits?


Occasionally, I find a way to use mine...mostly with a felting needle. This past week, I used a method from Diane Varney's book, and took the tufts of wool and locked them into a ply while spinning. The bobbin looked horrendous, and it was time consuming, but the resulting project serves it's purpose. (and has an interesting,...er well, maybe unusual appearance). I don't like to load up this page with photos...so click over to the riverrim if you would like to know more about it.


Have a great holiday weekend!