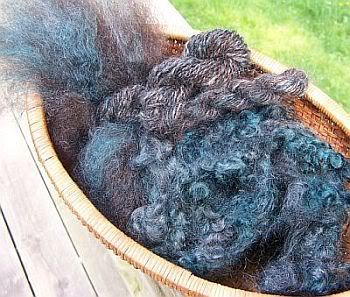 Recently, I spent an afternoon dyeing some kid mohair locks, and have had a chance to spin up a few samples. I am trying to decide if I want to blend the mohair with wool, or use it alone. My samples are of a blend of Finnsheep and the mohair. I spun them and then plied them off the tip of my Nostepinne. Diane Mulholland explains how to do this here.

I was disappointed with the color of the resulting samples. If this is representative of the overall yarn, I had expected more of the blue green tones. My plan was to use the finished product as sock yarn, so I may go ahead and spin it 100% mohair. Has anyone ever made mohair socks? I am wondering about the durability of them. There is no doubt that they would be soft and comfy :-).

So, its back to spinning up more samples...and maybe even dyeing more wool!