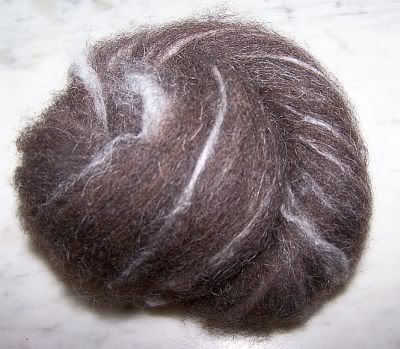 Hello spinners! It is nice to see the sidebar list of contributors growing, and I am really enjoying reading and learning about what everybody is spinning and how they are spinning it.

Last week I worked on fiber preparation so that I would have something to spin on the weekend. I had planned to work at the Great Wheel, and I have much better results at that wheel when my fiber is extremely "draftable" (for lack of a better word). This involves more than the average amount of preparation that I would go through if I were going to spin on my Ashford.


Since I am still working on that blend of Black Finn and Angora, I first prepare the Finn wool. This fleece came to me from Grace Hatton (see the riverrim blog). I had previously scoured it, and discovered that it has lovely thick locks-- full of crimp! Before I can send this through my drum carder, I need to pick it to fluff and separate the locks. I sometimes do this in the evenings, when I want to watch TV.


After I had a basketful of the picked Finn, I sent a few handfuls through the drum carder (Louet Jr.) and then, I added a few handfuls of angora that I placed directly onto the drum as I was turning it. At this point, I added another few handfuls of Finn. So now I have an angora sandwich.. which suggests an Oreo cookie to me... which I take off the carder, and split down the middle length wise, turn the middles to the outside, and send it through the carder for a second pass. I made as many of these as I could in an afternoon, but I still have more to go.


As I was spinning, I remembered a question that Judy had asked a few weeks ago...about the weight of the yarn that filled the spindle. The Great Wheel is like spinning off of a spindle that has been set on its side...so I decided to make the biggest cop that I could. It weighed in at just over 2.5 oz. I couldn't make it any bigger, because I had trouble with the tip collapsing on itself.
I think the spindle could hold a bit more, but I need to learn how to build a better cop.