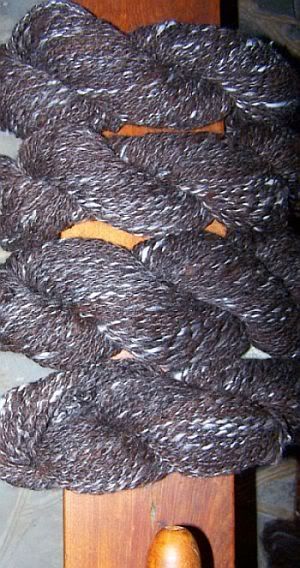 With only 36 yards left to spin before I reach a total of the 625 yards needed for my project...I started knitting.
Surely, some of the other spinners in this group have the same ( bad) habit? Oh, I started out with good intentions...I told myself I would spin all 625 yards before I would cast on a single stitch. No matter what. Absolutely.



But suddenly, I needed to leave for my dentist appointment, and I needed a project to work on while I was waiting, and I caved.
But there is hope for me. I am getting better. At least this time, I know for sure that I have enough wool to complete the remaining 36 yards.
Stats:625 yards (minus the 36 still to go) of a blend of Black Finn sheep and Black Angora. (75% to 25%)
Prepared on the drum (Louet Jr)
Spun singles on the Great Wheel, Ashford ply.
wpi 8
I posted a few more photographs of the GW spindle and cops that I made with this blend over at the riverrim.