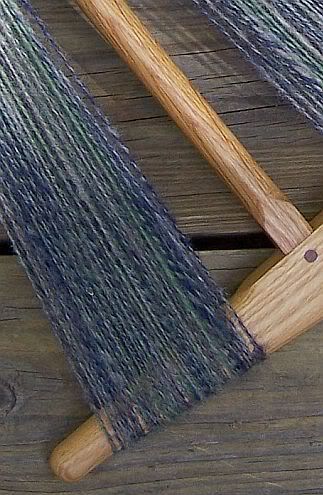 I've been really busy in the garden these days. This morning, my back hurt from all the weeding I did yesterday, so I drank an extra cup of coffee, and started spinning on the Great Wheel while I was still wearing my pajamas. Before I knew it I had 88 yards of 14 wraps per inch...and my back felt much better. Guess I just needed to walk it off!


The wool roving was given to me by a friend, she had purchased it from Delly's Delights Farm, but it was processed by the Drafting Zone. It didn't have a name other than "side by side".


Later in the afternoon, I went out and picked the peas, ugh, there goes my back again! Since the roving didn't have a name, I am calling it "pea harvest". I still have a little of it left to spin, and I'm thinking maybe I will need to have another pajama morning soon.